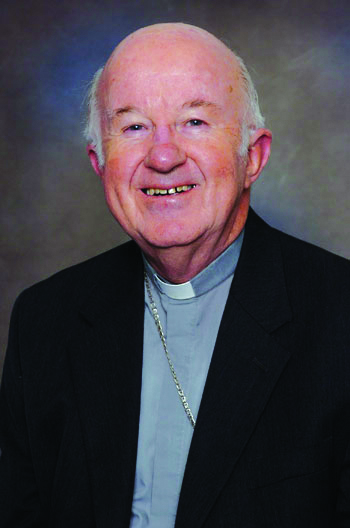 The strain of dealing with historic cases of child sex abuse was one reason Bishop of Ballarat Peter Connors sought early retirement from his diocese, he told The Record last week.
Bishop Connors will be the diocese's Apostolic Administrator until his newly announced successor, Fr Paul Bird CSSR, assumes the role on October 16.
In his 15 years as bishop of Ballarat, Bishop Connors said he had met with somewhere between 30 and 50 victims of sexual abuse.
None of the cases related to incidents that occurred at any time after his 1997 appointment.
But the challenge of dealing with the fallout of clerical child sex abuse was greater than he had originally anticipated, he said.
"When you meet with victims you realise just how much they've suffered through the years," Bishop Connors said, reflecting on how wide-reaching the effects of sexual abuse were, not only on the victims themselves, but also on their partners or spouses and parents.
Typically, Bishop Connors met with complainants in the presence of a facilitator, apologising for many harrowing injustices after having listened to victims' experiences.
Those meetings would be preceded by the diocese's offer to pay for counselling at a provider of the complainants' choosing, and were usually followed by a "gesture of support" to try and aid the victims healing, Bishop Connors said.
Late last month, the ABC ran claims the Victorian Government's victim support services had referred victims to the Catholic-run counselling organisation, Centacare, in Ballarat.
The claim was contradicted by both the State Government and Centacare.
Bishop Connors, who also cited health reasons for his early petition for retirement, said he had enjoyed his ministry overall despite difficult experiences he had confronted.
"I've enjoyed my ministry as regards with going into parishes.
I recognise the difficulty the priests are experiencing and I admire the way they are going on," he said.
When asked how he coped with having to face so many cases, he said he had been able to share his feelings of stress with others.
"I don't know what it is. Maybe I have a personality that can handle it," Bishop Connors said.
Although he petitioned for resignation around 18 months ago, he reached the mandatory age of retirement (75-years-old) in the interregnum.
Bishop Connors said he was looking forward to more time for reading, particularly Church history and Scripture commentaries.