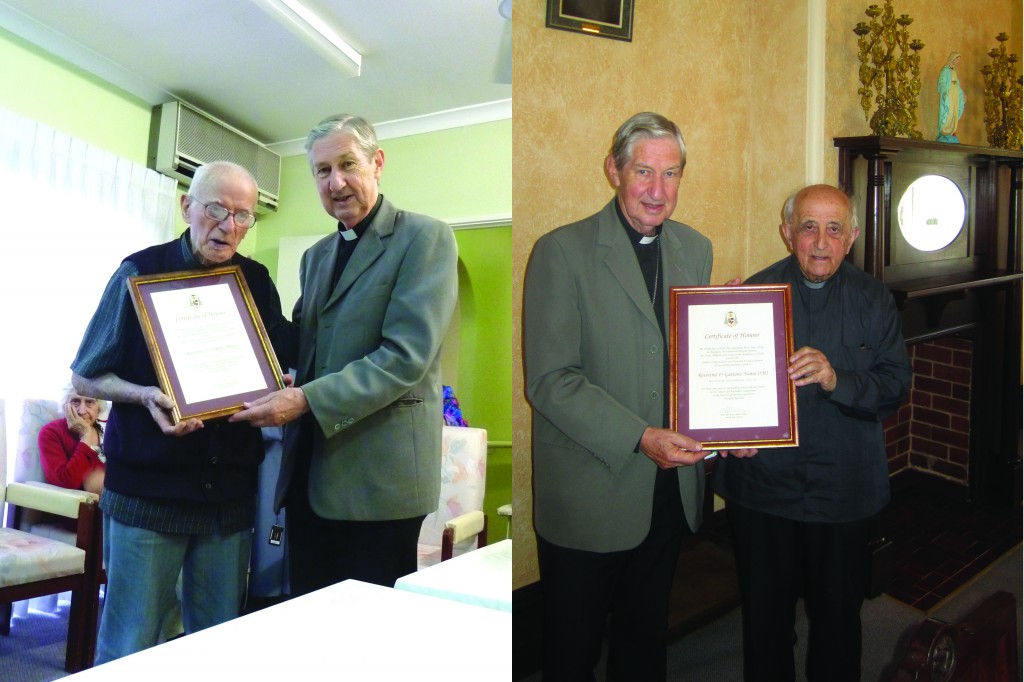 The Catholic Italian community of Western Australia is reeling from the loss of two beloved priests, Fr Gaetano Nanni OMI and Fr Filippo Magni OFM Cap.
A funeral was held on Tuesday morning for Fr Nanni who died suddenly and peacefully on July 30, aged 92, in St Patrick's Presbytery, Fremantle, the suburb he fondly called his home for many years.
Fr Magni passed away on June 26, aged 94, less than a month before the 70th anniversary of his ordination to the priesthood.
Earlier this year both the priests were presented with a certificate of honour recognising their outstanding service to the Church and WA's Italian community over the decades.
With almost 140 years of priesthood between them, the two men were responsible to reaching out to Italian migrants in Perth after the Second World War.
Fr Nanni was ordained on May 3, 1943 in Italy and came to Australia sixty years ago to join the Oblate community in Fremantle.
Many messages of condolences have appeared in classifieds of The West Australian, all fondly remembering the man who is said to have known every Italian in Perth, especially those in Fremantle.
Fr Nanni continued to celebrate the Sunday morning Mass in Italian at St Patrick's Basilica up until his final days.
Archbishop Emeritus Barry Hickey said in a statement the death of Fr Nanni has triggered a huge wave of sadness throughout the entire Italian community in Perth and he feels privileged to have known him well.
The former Archbishop of Perth served alongside Fr Nanni at St Brigid's in West Perth in the decades after the war.
Fr Magni was a resident of Villa Terenzia in Marangaroo, a retirement and nursing facility established by Perth's Italian community, for more than two decades after serving as a priest in the Diocese of Bunbury.
He assisted with the daily Mass at the Villa into his old age.
Fr Magni was a Conventual Franciscan and continued to serve in the Diocese of Bunbury after the Capuchins withdrew from WA in the late 1990s.
In a letter of personal thoughts published in the Bunbury Diocese publicaton Lives of Service, Fr Magni said when he retired it ended an echo of Capuchin presence in the Diocese of Bunbury.
"I have continued my love of St Francis and the Capuchins over the many years since I left the Order."
"It has been a long journey for me, not always smooth, but never the less a great ministry… God has given me many blessings and I thank Him."
Bishop of Bunbury Gerard Holohan said: "Fr Phillip Magni was a wonderful priest who gave faithful service to our diocese with particular care to Italian migrants. He touched many people's lives and I am sure they will never forget him."